Precious metals used in x-rays
We are getting this question many times.

A lot of people wants to know if x-rays contains other precious metals other than silver.

The way that radiology works is that the film is coated with a very thin layer silver, therefore when it exposed to light or radiation the silver is burned and removed in the developer fluid, therefore the only material that may be used for that kind of application is silver.

According to our information and our 30 years experience in the silver recovery business we know that silver is the only precious metal exists in x-ray film.

This fact is good for all kinds of x-ray films including medical, lithographic and industrial x-rays.

B.W. Recycling, Inc offers x-rays silver recovery services anywhere in the US, we pick-up for free and pay you for the silver we recover from the x-rays.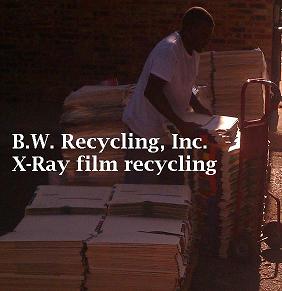 Other x-ray film silver recovery related pages: